This post may contain affiliate links, which means if you click and make a purchase through these links, I may earn a commission at no extra cost to you. Read my
full disclosure here
.
---
This overlapping-squares dollhouse headboard screams geometric awesomeness! I had originally aimed to make the daybed, but couldn't make the squares flow nicely between the side and back frames. Plan B: keep just one side frame and call it a headboard!
The headboard is designed to work with this basic dollhouse bed, measurement-wise. If you want the ability to change headboards later, you can keep it detached from the bed! Just attach it to the wall with a removable adhesive, and place the bed in front of it. What a great idea!
Except I didn't follow my own advice. For the instructions below, I glued the headboard to the bed. Oops! I'm still very happy with how it turned out, though.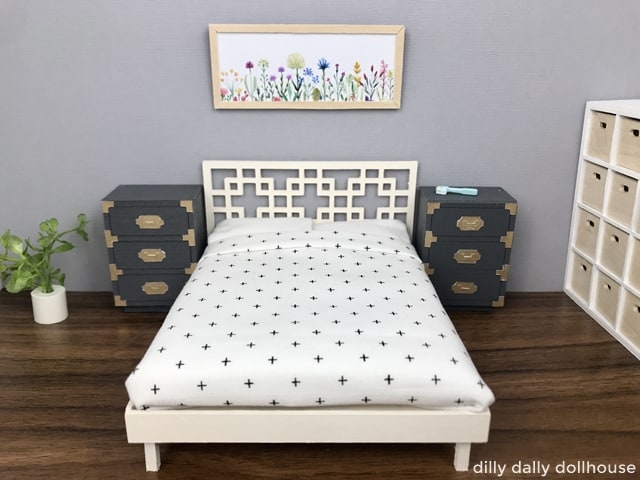 ---
Need to make the headboard taller?
If your dollhouse mattress is on the thick side and you'd like to heighten the headboard to accommodate it, check out this video on how to do that in Cricut Design Space! You can also click here to watch it on YouTube.
---
TOOLS AND MATERIALS
Cricut Maker or other die-cut machines
Cricut fine-point blade that should come with your machine
100lb. coverstock for cutting with Cricut

For manual cutting, use the thickest cardstock that your printer can accomodate

Optional: basswood strips to frame around the squares
Glue – I used Elmer's craft bond for the cardstock layers, and good ol' Aleene's to attach the headboard to the bed.
Spray paint – I used Rust-o-leum Heirloom White which is off-white/ivory, as I found the Blossom White a bit too stark.
A basic dollhouse bed

You can omit one of the short outer panel replace it with the headboard.
You can make the basic bed as is, if the headboard will be attached to the wall.

Glue Dots or other removable adhesive, for attached headboard to the wall
---
TEMPLATES FOR THE HEADBOARD
The headboard is available in 3 sizes: twin/single, full/double, and queen. Download the PDF for 1:12 scale and 1:16 scale templates, for manual cutting. For the SVG files, head on to the resource library!
Love free stuff? The Resource Library is where I keep my digital freebies… such as SVG cut files, dollhouse printables, and other miniature templates. It's my thank you gift to my email subscribers! If you're already a subscriber, you can refer to my latest email for the library password. Not a subcriber yet? You can sign up for free here!
---
INSTRUCTIONS TO MAKE DOLLHOUSE HEADBOARD
Making this headboard is pretty straightforward!
Step 1: Cut the headboard pattern
I cut 4 copies of the headboard on 100lb. coverstock using Cricut. The 4 layers will achieve roughly 1/16″ thickness.
If you are cutting manually, most likely you will need to use a thinner cardstock. Print as many copies as you're willing to cut.
To achieve thickness, you can add a frame around the squares (where the red lines are) using basswood or other thick materials.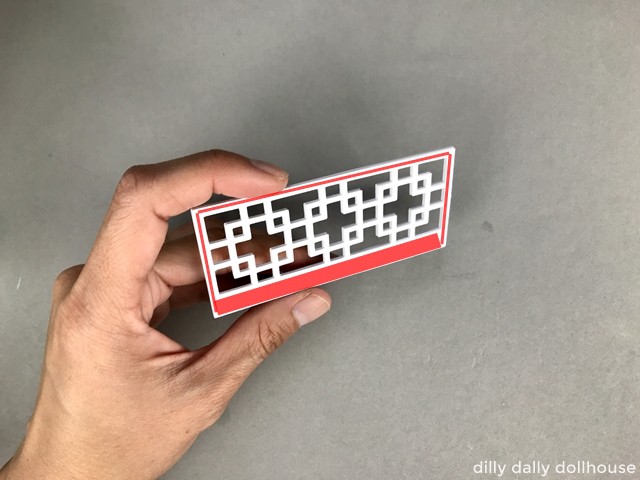 Step 2: Glue and stack the headboard layers
Make sure to get glue on every surface so that there's no gaping later. Put the stacked headboard under a heavy, flat item like a college textbook that your husband refuses to let go 20 years after graduating.
Step 3: Paint and attach
You can glue the headboard directly to the bed, then paint the whole thing together.
If you plan to attach the headboard to the wall instead (therefore making it changeable–smart!), paint the bed and headboard separately, of course. Glue Dots would be great for attaching the headboard to the wall.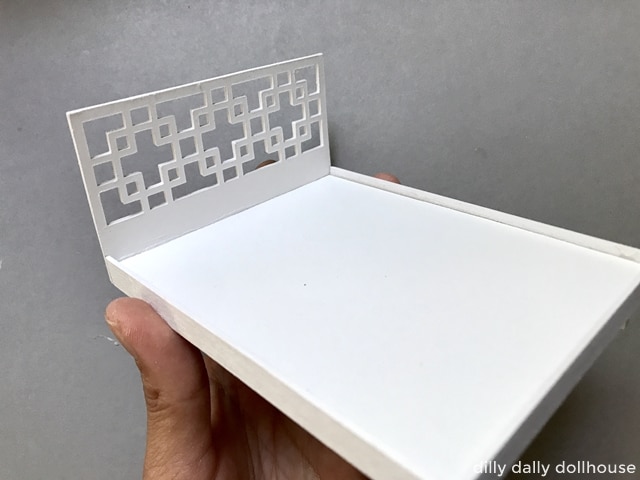 ---
COMPLETE!
See? That was straightforward, if you don't count making the bed (which you can make using this tutorial). 😉 😁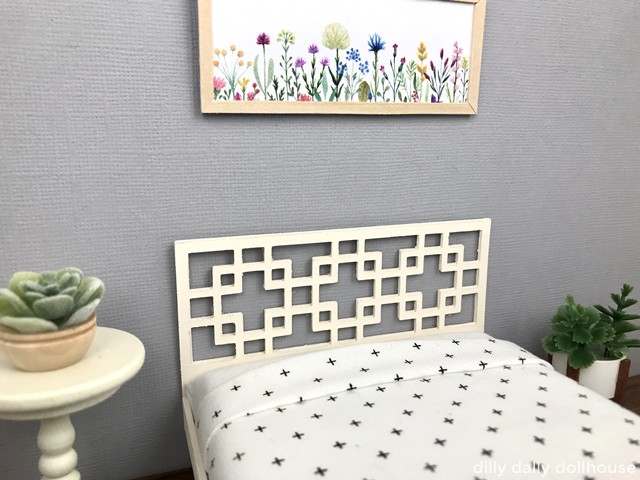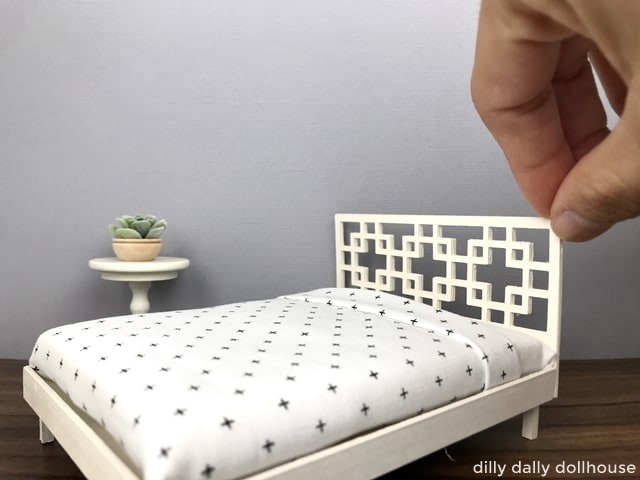 ---
---
Made your own? I'd love to know!
What motivates me the most is seeing you use my tutorials to make your own minis! There are many ways you can share your projects:
comment below to let me know (or if you have any questions about it–for the benefit of others also!)
link back to my site or this tutorial,
share your version on my Facebook group!
---