---
If you love mid-century, you'll love this project: a set of mid-century modern dollhouse mirrors. It's an easy one, too! The hardest part is probably cutting the mirror, which has to be done manually 😱 with scissors.
These miniature mirrors can also be enlarged or made smaller to suit your preferred sizes!
I'd say the best material to make these mirrors is stained basswood to achieve the most realistic effect. I tried all of my gel stains (maple, oak, and walnut), just because! Here's a comparison picture of the 3 different stains, if you can get past the blurriness 😜. Which one do you like best?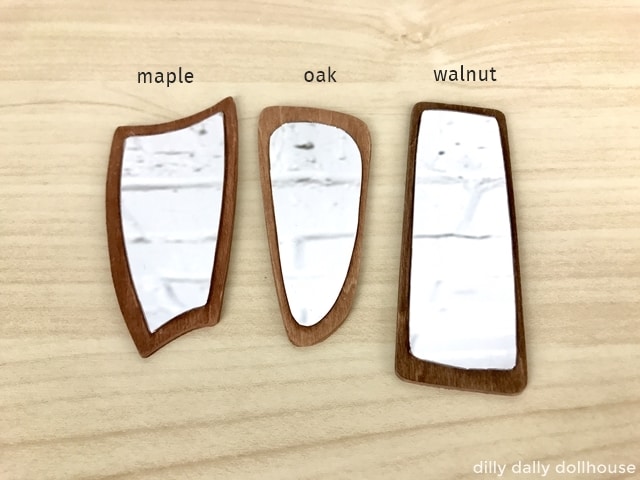 This post may contain affiliate links, which means if you click and make a purchase through these links, I may earn a commission at no extra cost to you. Read my full disclosure here.
---
Materials for Mid-Century Mirrors
---
MCM Mirror Templates/SVG file
You can download the PDF printable here to trace it on the wood and mirror sheet. The measurements shown here is a start. From there, you can adjust to enlarge or make smaller as you wish. I recommend resizing them as a group to maintain the proportion.
To get the SVG file, head on to the resource library (you will need a password).
Love free stuff? The Resource Library is where I keep my digital freebies… such as SVG cut files, dollhouse printables, and other miniature templates. It's my thank you gift to my email subscribers! If you're already a subscriber, you can refer to my latest email for the library password. Not a subcriber yet? You can sign up for free here!
---
Cricut/Cutting notes
This post includes a video tutorial on importing and resizing the SVG file in Design Space.
You will want to cut one material at a time. To do so, hide the other material by clicking the "eye" icon on the right hand side in Design Space.
That was my first GIF ever — hahaha!
For the basswood base, cut 2 pieces of each shape, one at perpendicular direction to the other.
I tried cutting the mirror sheet using 1/16″ basswood setting and wasn't successful. What I ended up doing is run a couple of passes of the mirror shapes on the mirror sheet to generate tracing lines. Then, I simply cut them out using scissors following the tracing lines.
---
Assembly (it's very straightforward!)
Stain the wood pieces
Glue them together
Sand the edges to smooth out
Seal the wood with a satin-finish sealant
Attach the mirror sheet on
---
Complete!
Easy peasy!