This post may contain affiliate links, which means if you click and make a purchase through these links, I may earn a commission at no extra cost to you. Read my
full disclosure here
.
---
This dollhouse kitchen sink is easy to make, thanks to its faux doors. It features an apron sink that fits into any modern style, be it farmhouse, Scandinavian, or whatever you can think of. The basic door front is the perfect canvas to add your own accents.
I recently realized that I'm not a big fan of working doors and drawers. They always come loose or undone when I move things around. I usually put some sort of adhesive to keep them in place. So to make it easy for us, I designed this miniature kitchen sink faux doors. Voila – no more flappy doors!
I made the mini sink cabinet with 1/16″ basswood, but it works with other 1/16″ material, such as matboard or chipboard.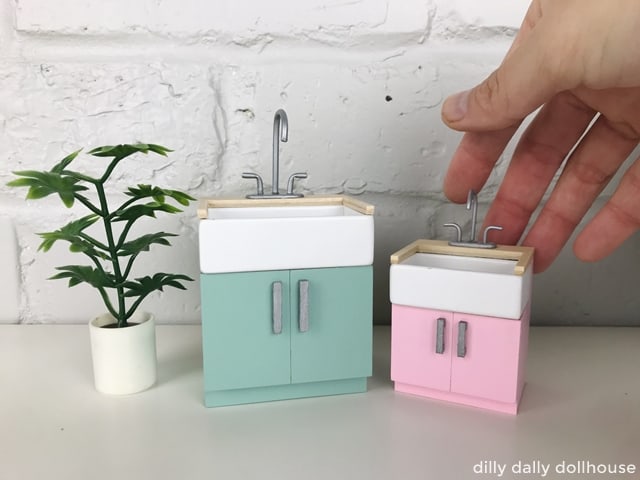 ---
DESIGN NOTES FOR DOLLHOUSE KITCHEN SINK
The dollhouse kitchen sink is available in 3 different widths:
Standard (equals to 30″ in real life) – this is the one pictured
Compact (equals to 24″ in real life)
Wide (equals to 36″ in real life)
The measurements are designed to work with 1/16″ material, except for the countertop which is 1/8″ thick. I simply double-layered 1/16″ basswood for the countertop.
The SVG files are available on my Etsy shop, and you get all 3 widths! (I know you have more than one dollhouse, so you need to have multiple kitchens! 😉)
---
IMPORTING THE SVG FILES INTO CRICUT DESIGN SPACE
To import the SVG file into Cricut Design Space, head on to this post or watch this video on YouTube.
---
TOOLS & MATERIALS TO MAKE DOLLHOUSE KITCHEN SINK
I use my Cricut Maker to cut basswood, and here is my recommended tools and materials:
1/16″ basswood sheet (see cutting list below)
Sandpaper in various grits (I use mainly 150 and 220, sometimes 400)
Gloss paints
Thin basswood sticks for handles
Bendable metal rod for faucet

I recommend the following sizes, that will fit into the included faucet base:
Cutting List for Dollhouse Kitchen Sink Cabinet
2 pieces of Side
1 piece of Back
2 pieces of Back2/TopSupport (one for Back, one for TopSupport)
1 piece of Toekick
1 piece of Bottom Shelf
2 pieces of Door
2 pieces of Sink1
2 pieces of Sink2
2 pieces of Sink3
2 pieces of Sink4
1 piece of Sink5
1 piece of Faucet Base
2 pieces of Countertop

If using basswood, cut them perpendicularly to each other
---
ASSEMBLING THE DOLLHOUSE KITCHEN SINK
I made a video overview of the assembly, which you can watch here or on YouTube. I recommend you watch it to get a feel of the whole process! The assembly notes below have some more details, so I think it's helpful to read them also.
Step 1: Cut and label all pieces
Use a pencil, so the markings can be erased or covered easily with paint. Sand all edges so they're smooth and even.
Step 2: Make the sink
The sink sides have 2 layers, and the bottom has a single layer. The front and back sides are the same. Layer 1 piece of Sink1 and 1 piece of Sink2 together, leaving 1/16″ lip on the short sides and on one of the long edge. For the left/right sides, layer 1 piece of Sink3 and Sink4 together, also with the 1/16″ lip along the 3 edges.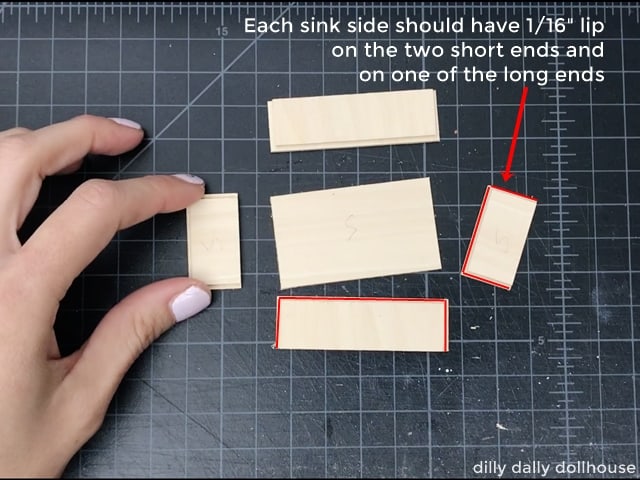 You will have 4 sides for the sink, and glue them to the Sink Bottom piece.
Sand the edges and corners to round them off, then paint.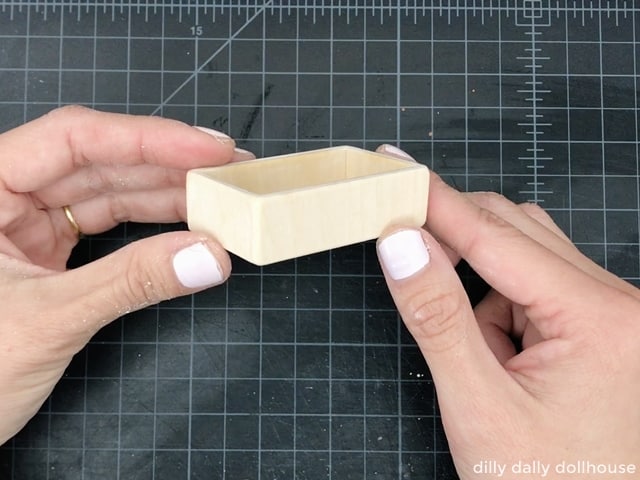 Step 3: Make the cabinet
Attach the Back2 to the Back piece. Then, glue the Side pieces to the back.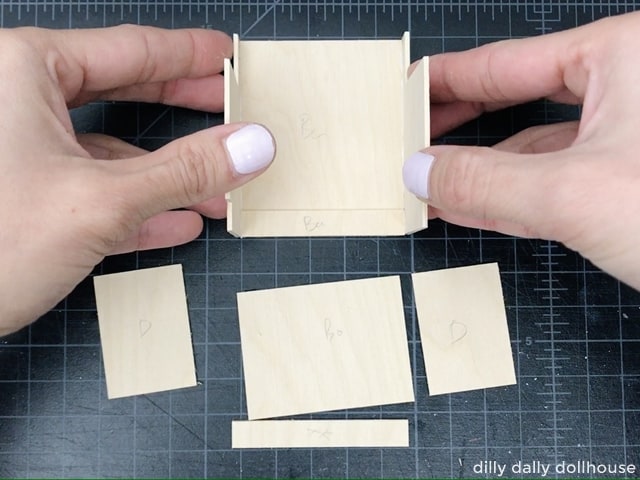 Next, attach the Toekick, and insert the Bottom Shelf.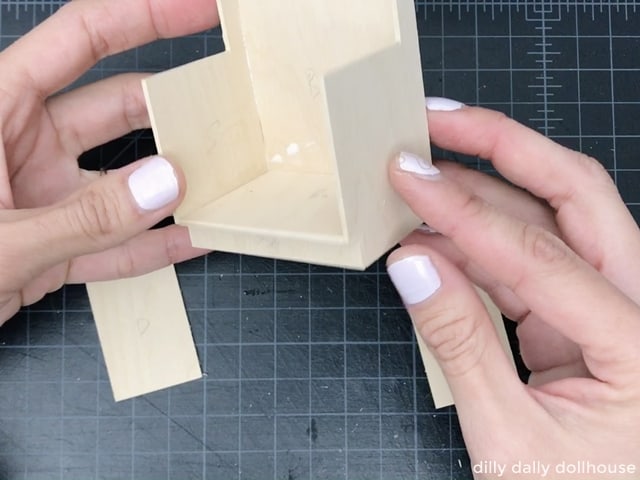 Last, attach the Top Support piece..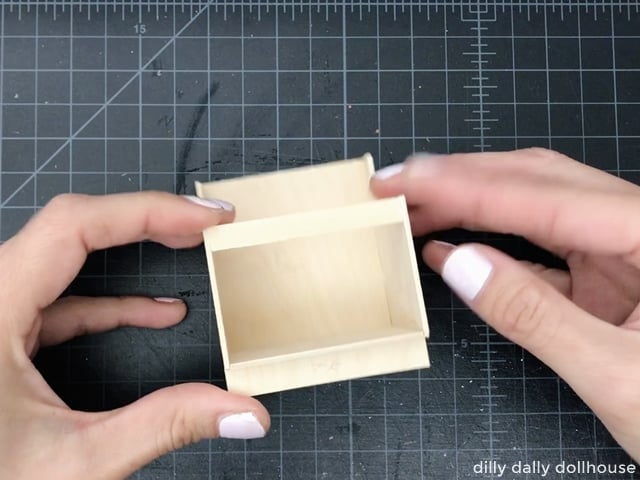 For the doors, simply glue them on to the front of the cabinet. Easy peasy!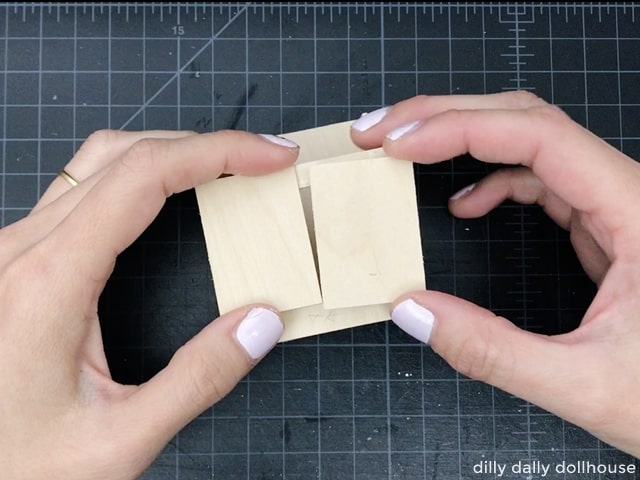 After the glue dries, you can paint the cabinet.
For the door handles, I simply used some wood sticks.
Step 4: Make the countertop
Make the countertop at 1/8″ thick, by layering 2 pieces of 1/16″ material, or simply cutting a 1/8″ one.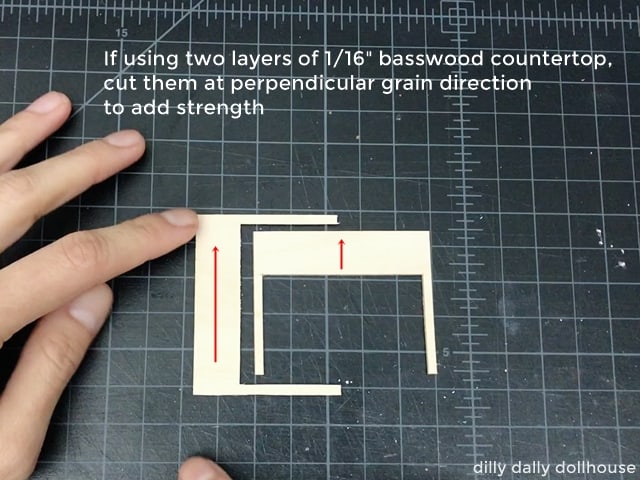 Step 5: Make the faucet
To make the faucet, bend the metal rod into a U-shape, using a hard cylindrical item, and cut.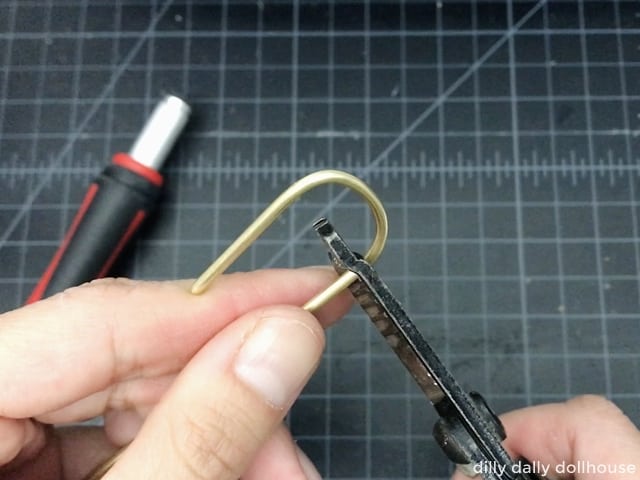 For the faucet handles, bend the metal rod to a 90-degree angle and cut. Make two of them.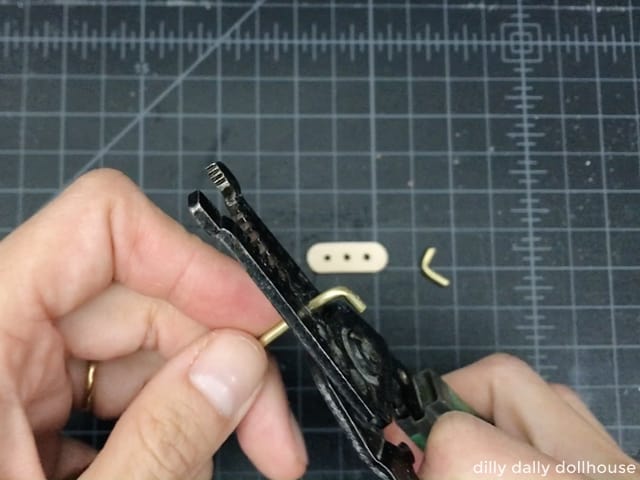 You can insert the faucet pieces into the faucet base and paint them all together. Or, paint first then insert.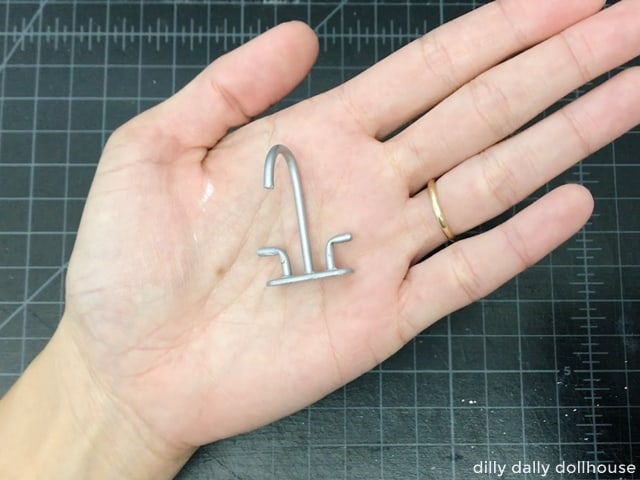 Step 6: Put everything together
Glue the sink to the cabinet, then the countertop, then the faucet and the door handles.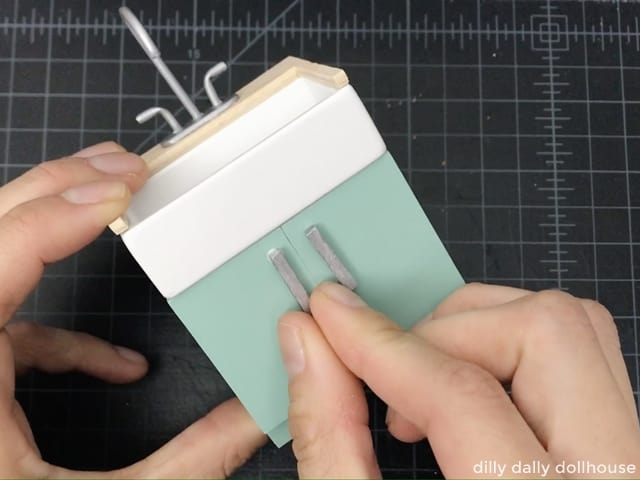 For the drain hole, you can glue on a small black cardstock circle or simply draw it in with a marker!
---
COMPLETE!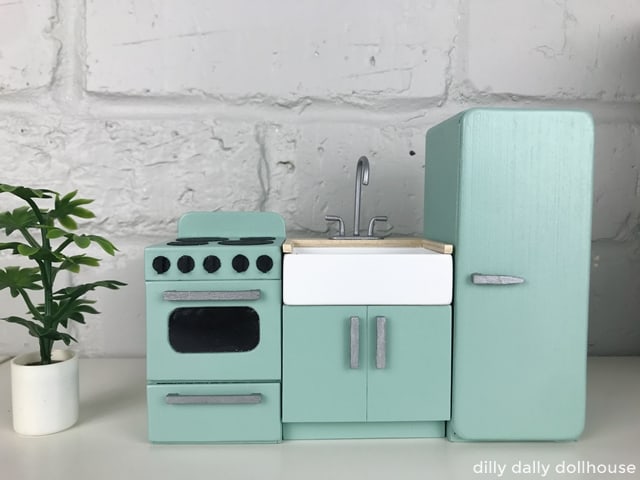 Don't miss out on the other kitchen tutorials!
---
RELATED PROJECTS
---
Made your own? I'd love to know!
What motivates me the most is seeing you use my tutorials to make your own minis! There are many ways you can share your projects:
comment below to let me know (or if you have any questions about it–for the benefit of others also!)
link back to my site or this tutorial,
share your version on my Facebook group!
---
---